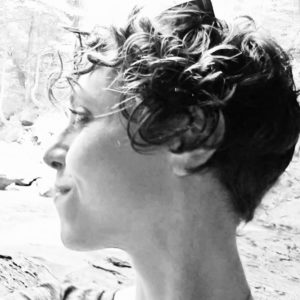 .
"Thank you for honoring and uplifting me through these huge Yogastrology® gateways, into a life of empowerment." Initiation Testimonial by Elisa Dawn Valentine, New York
.
"I found myself stepping out onto the deck to commune with the moon, stars, and planets in the middle of the night. There was so much peace there, and it was mingling with nature, and I felt as if I could find clarity in my life in this elemental mix of darkness, light, gentleness, steadiness, and beauty. After years of measuring much of my value in the workplace through the lens of institutions with politicized agendas, I found myself entering Diane's gentle and nurturing learning environment online that was created to water and fertilize my inner and external growth. Now I find I'm putting myself in more nurturing situations in my life and creating a home where I am more at home. The cosmos doesn't judge, it just is, in all its movement and mystery. It will never fire or promote me. It will offer insight into how to live well and align with nature, and in harmony with her, eternally. I am listening to my whole health needs more than ever. Where can I best hear them talking to me? On the deck, under the moon, the planets, and the stars." Institute Testimonial by Dr. Margaret McColley, Florida
.
"I can't believe it's been a year, such a fantastic process to go through!" Institute Testimonial by Dan Dugan, Massachusetts
.
"Diane is an incredible teacher! YogAstrology® was a meaningful, deep dive into the intersection of yoga and astrology. I learned so much, not just about teaching yoga through the lens of astrology but also for understanding myself and my own life path. Plus, Diane is freaking awesome. You will not find a more genuine human." Institute Testimonial by Elena Cheung, Seattle
.
"This was an amazing experience, a full year of intensive immersion in yoga, astrology, and wellness. It was juicy, thought provoking, and healing." Institute Testimonial by Courtney Turner, Maryland
.
"So happy to start with the Yogastrology® energy in all my classes!" Initiation Testimonial by Tânia Seabra Reis of Inner Trip Yoga®, Portugal
.
Feel at home in the cosmos. You belong here.