.
.

"Wow. Diane, you are a light and magnificence to those who are blessed enough to know you. I am grateful to be one of them." 

Helen Clement, Vancouver BC Canada

.
Diane Booth Gilliam, MA, E-RYT, YACEP
Lightbulb Moment
Many years ago, I was boarding a plane when I heard a mysterious message bubble up from inside, 
"You're going to have to let go of everything." Huh?
Unsure what that even meant ~ I focused on my travels and hours later, arrived at my destination: A colorful little village in India.
The second clue came on a sweltering-hot Indian afternoon about a week later. I was at a mind-blowing fire ceremony on the Full Moon. My mind was curiously quiet, when one simple thought appeared: There is some connection between yoga and astrology. (What is the connection?) Every day of my life since, in one way or another, has been about that mystical moment and my mysterious assignment.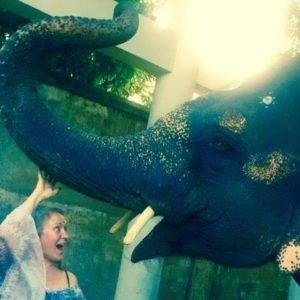 How Do You Define Success?
Success is finding what you love to do.
I'm not talking about what you're supposed to love. This is different.
Living Life
With long hours to kill in the noisy, chaotic Delhi airport, I stumbled into an empty room that had been reserved for nursing mothers (which I was not). Every wall was painted bright mustard yellow. Larger-than-life Donald Ducks stenciled everywhere.
What it lacked in subtle delicate decor, it made up for with rich deep silence. And a cushy sofa. I curled up.
Whenever you get a moment to soak in a pool of love, just do it.
What Do You Do When You Feel Uninspired?
I wait. 
I take exquisite care of my inner muse; I give her a lot of space. She knows she can come back when she's ready. 
Advice I Wish I Had Years Ago
Relax.
Not to diminish the virtue of hard work, but we have to get it on some deep level that things happen at the right time. A work in progress.
Above All Else 
Do what you love. Life goes by fast.
My 'Lightbulb Moment' (described above) when exploring and sharing (in my book and training courses) became my life's work ~ that moment happened many years ago.
A bonus I got, that I was not expecting, was being able to explore and share who I really am, beneath the layers of who I thought I should be. 
"Diane is an incredible teacher! I learned so much, not just about teaching yoga through the lens of astrology but also for understanding myself and my own life path. Plus, Diane is freaking awesome. You will not find a more genuine human." Elena Cheung, Yogastrologer®
Contentment grows out of deconstructing what is not real ~ rather than accumulating more, just for the sake of fitting in ...evolution involves elimination… and maybe that's what 'letting go of everything' (the mysterious message I heard, years ago) really means.
xo Diane
_____
12th House Sun
Saturn Trine Uranus
MA in Philosophy | University of Montana, Missoula
Some of the lineages I follow and my teachers, credentials, and certifications are noted here.
But here's the thing. My roots are deep.
My practice began long before selfies and the internet transformed yoga and astrology into the massive industries they are today. I took my first yoga class in 1978 at a YMCA in Montana and currently hold certifications in Svaroopa®, Embodyment® Yoga Therapy, and Phoenix Rising Yoga Therapy®, but my yoga practice also includes various styles such as Iyengar, Kripalu, Anusara, etc., as well as meditation and chanting. I am a Yoga Alliance YACEP and was among the first-ever RYTs and E-RYTs because I was studying asana with the founder of Yoga Alliance at the time of its inception.
Being the pujari, for many precious years ~ the pujari "waves the lights" and offers sacred substances during puja ceremonies with my sangham in India, Australia, New York, and California, was one of the highlights of my life. Also I served as the assistant director at Muktabodha Indological Research Institute in the San Francisco Bay Area.
I feel lucky to know many gifted yogis and meditators, 
Always learning…